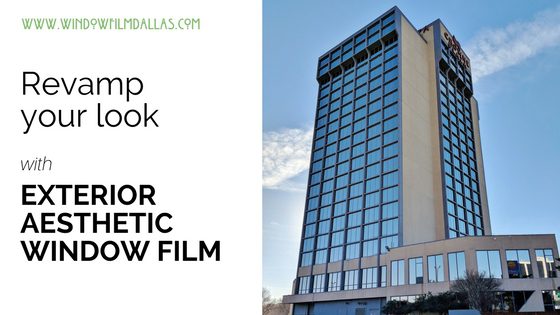 All too often in the industry, when we talk of window film in terms of aesthetics, we frequently make reference to its usefulness for interior spaces. But the truth is that window film can actually be as equally beneficial to the aesthetics of exterior surfaces as well. One of our most recent projects, which involved installing exterior window film on a Dallas hotel, is a perfect example of this.

Project Highlight: Exterior Window Film for Dallas Hotel
In the summer of 2017, our company was contacted by an ownership group that was in the process of revitalizing a hotel they had recently acquired. They were doing some remodelling work on the Crown Plaza hotel in Dallas. Their goal was to make the hotel not only look more appealing to customers, but to potential investors as well.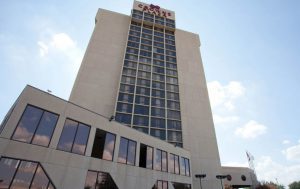 However, during the process, they were confronted with a perplexing issue. The exterior of the building was a bit worn down and it also lacked a look of consistency. Standing from outside the building, one could see into the individual rooms, some of which had the blinds shut, some which had them open, and others that had them partially shut. This affected the overall appearance of the hotel greatly, making it look uneven and unattractive.
The glass itself too had changed color over the years. This type of discoloration sometimes occurs when moisture builds up within the glass or the window is subjected to extreme levels of heat over an extended period of time. Regardless of the cause, the hotel owners knew that something had to be done, so they contacted several vendors in their area and eventually decided on us.
Over the course of approximately six weeks, we worked to clean the windows and carried out the installation of 35,000 sq ft of exterior aesthetic window film. This was a tedious process, and one that had to be executed carefully in order to ensure a quality finish. We manufactured a temporary mount which we installed on the roof so that our technicians could use a window washing lift. This allowed them to move around freely so they could easily access the full vertical span of the building.
In addition, we also removed and replaced the old seals on each window. This was done to protect the windows and make sure that no moisture would build up between the glass again after the install.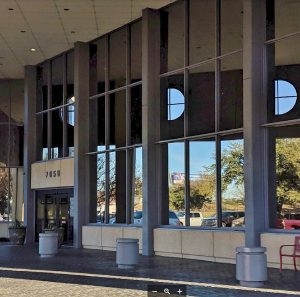 In the end, our efforts were well worth the results. The hotel looked stunning from the exterior. All of the windows looked uniform and consistent and instead of appearing brown and discolored, had an attractive blue color that reflected the hue of the sky. Our clients were very pleased. They felt confident that the film would not only help them with their current endeavors by attracting more customers but would also contribute to the monetary value of the building and increase its resale value in the future.
Schedule a Consultation
This hotel is only one example of how window film benefits Dallas commercial business owners. If you are interested in learning more about how your property can benefit from window film or would like to speak to someone about your architectural needs in detail, please do not hesitate to contact our office. We can provide you with a thorough onsite consultation free of charge and help you get started on your project. Call now to be connected!