Safety First for Dallas Schools
Over the past thirty years, the population size of Dallas has doubled, as profitable industries including oil and gas, manufacturing, aviation, and aerospace have people flocking to the area for jobs. As the leading cosmopolitan hub of the region, there are endless activities one can find, including a visit to the Dallas Arboretum and Garden or the Nasher Sculpture Center. As people settle into their careers and raise their families, an important factor for staying in the area is school safety. One way to enhance school safety is protecting the most vulnerable entry points, and security window film is an efficient tool Window Film Dallas provides in order to do so.
In the first seven months of 2018 alone, there have been 154 mass shootings in the country, where far too many lives have been taken far too soon. The death count from mass shootings has increased over the years, adding media attention to these highly unfortunate events. What is more concerning is sometimes these attacks occur in schools, which is an appalling disruption to students and their educators.
What Is Security Window Film And How Does It Work?
Security window film saves school districts time and money needed to provide the invaluable additional safety against lethal damage. You can choose from window films up to 15 mm thick to prevent heavy blunt force damage to glass surfaces for up to two minutes, which gives those in the building crucial extra time for help to arrive. By adding school safety film to ground level windows and glass entryways, these surfaces can be 40 times stronger than when left unprotected.
Security window films don't only impede intruders; they can also protect against severe wind and weather such as tornadoes. Because of their adhesive quality, glass surfaces are less prone to shattering and causing injuries and damage from shards of glass. Unlike reconstruction of entryways and shatter-proof glass installation which are cost-prohibitive to most schools, window film is affordable and takes less time to implement.
Watch the video below for more information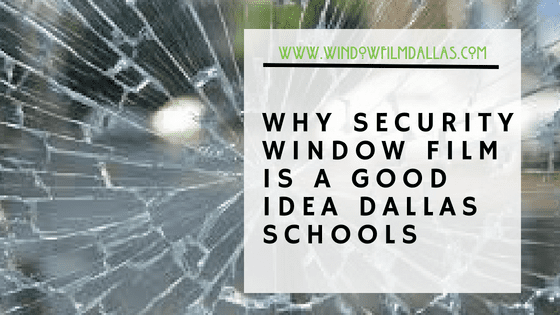 Window Film Dallas For Your School's Security Film Needs
Window Film Dallas partners with window film manufacturers known to consistently create high-quality products using the latest technology. You can trust in our 20+ years of experience in window film installation for the workmanship you need to enhance security at your school.v to have a knowledgeable installation expert walk you through a free on-site consultation today.