Decorative Window Film For Dallas Businesses
Decorative window film is an underrated design tool that is both beautiful and versatile. On the surface it may appear simple its forms and functions are widely varied and applicable to oh so many problems in commercial and residential properties here in Dallas.   It does everything branding a business in a high rise building to decorating cabinet doors in a home kitchen and much, much more. No matter what your design vision for any flat surface in your home or office, decorative window film is an all around, affordable solution.  Our numerous high definition decorative films come in varying degrees of transparencies, colors, styles, and textures to complement any design style (old or new). To give you a better understanding of the power of decorative window film, we have listed below 5 ways to use this wonderful modern amenity.
5 Creative Uses For Decorative Window Film
Decorative Window Film Adds Style:  Decorative window film the perfect way to add life to your interiors and turn the mundane into something extraordinary.  Whether on a glass wall, divider, cubicle or cabinet door, versatile decorative window film are always easily customized to your unique project and vision.
Decorative Window Film Increases Privacy:  In a city like Dallas where privacy is a premium, decorative window film is an affordable and unique way to get more privacy to your living and working spaces.  For homes it is perfect for areas like bathrooms or bedrooms; in offices, it makes for glass cubicles or conference rooms to have as little or as much privacy added as needed.  
Decorative Window Film Hides Unsightly Views:   As you probably know, all windows don't come standard with a gorgeous view.  For this reason, decorative window film is a much-needed barrier between you and something unsightly outside your office window.  An important feature of decorative films is they are not permanent. So, you can change them up or remove them all together whenever you want.
Decorative Window Film Instead Of Textured Glass:   Textured or etched glass is obviously very beautiful but expensive as well.  If you are renting an office or a home, making permanent changes to an architectural feature is not usually an option or a good idea financially.  However, with decorative window film, you are able to give your space that custom look you crave without any long-term commitment!
Decorative Window Film Diffuses Light:  Open offices and home spaces are very much in style right now.  This makes sunlight as much of an enemy as an asset. This is because, with no cover from glass walls,  at certain times of day, sunlight can be way too harsh and distracting. With window film, you can control how much natural light comes in and where it goes by capitalizing on decorative window films diffusing and filtering effects.  This allows you all the natural light you love without any of the harmful effects.
For more information on decorative window film watch the video below: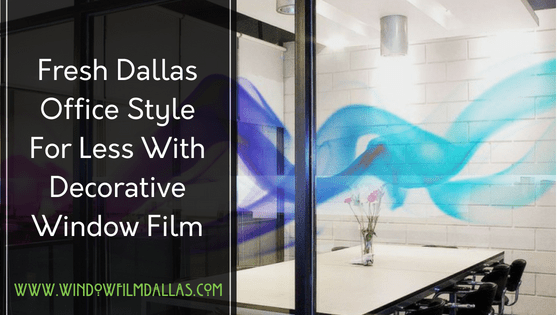 Window Film Dallas For Your Custom Decorative Window Film Needs
At Window Film Dallas we carry a huge amount of design and function options and even consider ourselves the local decorative window film expert. From simple film solutions to intricate custom film jobs–we have copious experience in them all.  For more information, contact us directly to set up a consultation today!.