Bird Divert for Dallas Properties
Welcome to Window Film Dallas, where innovation meets conservation! We are thrilled to introduce you to Bird Divert – an ingenious bird safety window film designed to protect our feathered friends while preserving the beauty of your Dallas properties.
Window Film Dallas proudly serves neighborhoods throughout the city, including Preston Hollow, Lake Highlands, Highland Park, Caruth Terrace, and the vibrant Bishop Arts District.

Understanding the Bird Collision Crisis
Did you know that in North America, up to 1 billion birds lose their lives every year due to glass collisions? Shockingly, houses and cottages account for approximately 25.9% of these fatalities, while low and mid-rise buildings contribute to around 63.9%, and high-rise buildings add to the devastating 10.2%.
The outside of glass is inherently reflective, causing birds to perceive it as an extension of their surroundings rather than a barrier. This deadly misconception leads to countless collisions and tragic losses in avian populations.
An Innovative Solution: Bird Divert
Enter Bird Divert, a groundbreaking solution to the bird collision crisis. Manufactured by National Window Film, Bird Divert™ is the most effective, optically-clear bird marker available today. It's designed to prevent bird collisions and protect our avian friends while remaining virtually invisible to human eyes.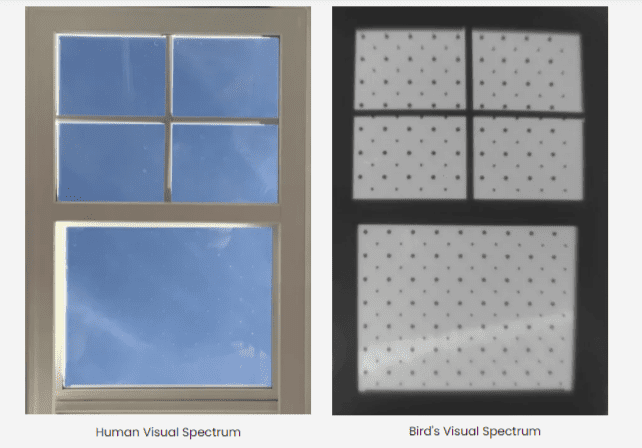 How Bird Divert Works
Bird Divert operates on a simple yet ingenious principle. It falls within the visible spectrum of birds but remains undetectable to humans. This durable UV-absorbing and reflecting dot matrix appears black or violet to avian eyes, acting as a lifesaving beacon to our feathered friends.
Features of Bird Divert
Our Bird Divert window film incorporates proprietary UV reflective and absorbing technology, recognized by the American Bird Conservancy as the only industry-leading application to achieve a threat level of 18. Furthermore, it qualifies commercial buildings for LEED pilot 55 certifications, promoting sustainable practices.
Bird Divert boasts a 98% Visible Light Transmission (VLT), is 3.2 millimeters thick, crafted from PVC acrylic hard coat material, and is expertly applied to building exteriors. For your peace of mind, we offer a generous 5-year manufacturer warranty.
Proprietary UV Technology
Bird Divert's incorporation of UV reflective and absorbing technology plays a pivotal role in preventing bird collisions, making it a vital addition to your property.
Industry Recognition
Bird Divert's industry-leading status is underscored by its endorsement from the American Bird Conservancy. When you choose Bird Divert, you're choosing a solution recognized for its effectiveness in preserving avian life.
Versatile Applications
Whether you're looking to reduce bird collisions at existing buildings or design a new bird-friendly structure, Bird Divert has you covered. Plus, it qualifies your property for LEED pilot 55 certification, highlighting your commitment to sustainability.
Invisible to Humans, Visible to Birds
One of Bird Divert's standout features is its unique invisibility to humans. It's a clear, optically transparent solution that only birds can see, ensuring the safety of our feathered friends without compromising your view or aesthetics.
Endorsed by Experts
Rest assured that Bird Divert has the backing of esteemed organizations like the National Audubon Society and the American Bird Conservancy. When you choose Bird Divert, you're choosing a product with a seal of approval from experts in the field.
Warranty
Your investment in Bird Divert comes with a 5-year manufacturer warranty, offering you peace of mind and assurance in the effectiveness of this bird safety window film.
Bird Divert Product Details
Let's dive into the specifics of Bird Divert:
98% Visible Light Transmission (VLT): Maximizing natural light while preventing bird collisions.
3.2mm thickness: Durable and long-lasting protection for your windows.
PVC acrylic hard coat material: Ensures the film's resilience and effectiveness.
Exterior application: Seamlessly applied to your building's exterior for unobtrusive protection.
Learn more:
Compliance with Local Laws
Many cities and regions are enacting local laws that require building owners to comply with bird-friendly design requirements. Bird Divert is your key to meeting these requirements while safeguarding avian populations.
Contact Us for Bird Divert in Dallas, TX
Join us in making a difference by choosing Bird Divert for your Dallas properties. Together, we can reduce bird collisions and preserve our feathered friends. Window Film Dallas installs Bird Divert for properties all throughout the city, including neighborhoods like Preston Hollow, Lake Highlands, Highland Park, Caruth Terrace, and the Bishop Arts District.
Don't wait – take action now! Contact us today to schedule a consultation or request a quote. Let's protect birds and your property with Bird Divert!