EnerLogic: Low-E Insulation Solutions for Dallas Properties

**PLEASE NOTE: AS OF 2021, ENERLOGIC HAS BEEN OFFICIALLY DISCONTINUED. PLEASE CONTACT US FOR ALTERNATIVE OPTIONS.
EnerLogic delivers a great way for Dallas homeowners and business owners to save money without window replacement. EnerLogic window films are designed to give substantial insulation, making single-paned windows into double-paned. With specialty energy efficiency solutions, Dallas properties can experience year-round savings paired with optimal comfort.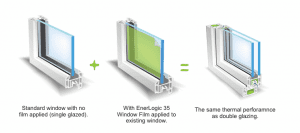 EnerLogic 35 Window Film
EnerLogic 35 window film delivers privacy and energy efficiency for comprehensive benefits. This tinted option blocks unwanted views into your property with the added benefits of glare reduction and UV protection.
EnerLogic 70 Window Film
EnerLogic 70 window film offers an optically clear solution that offers the same great benefits as EnerLogic 35. Experience superior solar heat rejection, UV protection, and glare reduction benefits with this optically clear option.
Work with Dallas' Preferred EnerLogic Contractor
Window Film Dallas is honored to be the preferred EnerLogic contractor providing premium energy efficiency solutions for commercial and residential properties. We're happy to provide energy audits and will help you find the best solution for your property. Contact us today for your free consultation!