Energy Efficient Window Film In Dallas, Texas
In the last few decades, we have seen the cost of energy rise and rise.  Since we rely heavily on everything of utility fuel the ever-skyrocketing costs are concerning for homeowners and businesses alike. The small things you do each day like shutting off lights or unplugging appliances are one way to keep costs down but really only account for a fraction of savings of potential savings.  To really make a dent in the amount of energy you use and pay for something as powerful as energy efficient window film is required. When applied to your windows, at home or at work, these films save big time on utility bills and are a fiscally sound investment for anyone looking to get ahead.
How Does Window Tinting Lower Energy Costs?
Window film works to save your home or business in a number of ways.  It reduces solar heat gain on windows to significantly lower cooling costs.  This also rids you of uncomfortable hot and cold spots. Window film as acts as an additional layer of insulation making single-pane windows as effective as double-pane and double-pane as effective as triple-pane. This added insulation is critical to keeping the air you pay to heat and cool trapped soundly inside– where it belongs.  The cost of escaping air from windows and doors accounts for as much as 30% of your utility bills, meaning, you could see a corresponding savings percentage after having window film applied to your Dallas home or commercial space. Finally, window film keeps the temperature in your Dallas home or office even. When your HVAC systems aren't turning on and off all day or running non-stop for long periods of time, they require less expensive and more infrequent repairs.  This saves you a fair amount of money on HVAC maintenance.
Watch the video below for more information on energy efficient window film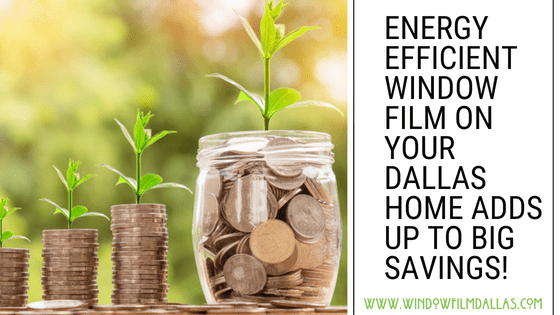 Window Film Dallas For Energy Savings In Dallas
Here at Window Film Dallas know how to make any business or home energy efficient with window film.  We will consult with you to outline a plan to make the places you live and work energy efficient, more sustainable and green.  Find out more about energy efficient window film and how this will save you money, by contacting us today to speak with one of our expert consultants!