Accidents happen; it's a simple fact of life. Sometimes things just happen like someone tripping and falling or a baseball goes astray while the kids are playing outside and things get broken in your home. While there may be no way to stop all accidents from happening, you can still take measures to protect your family and the safety of your home.
Installing window film can make your Arlington home safer for your family and reduce the risk of damage or personal injury from glass. Safety window film helps secure glass shards in place, preventing broken pieces of glass from being cast about the room. And it can also protect your home from burglars and natural disasters.
In this post, we've outlined some of our top recommended choices in safety window film for Arlington homes.
How Window Film Can Protect Your Home & Family
Broken glass is extremely sharp. And when windows are impacted at a high level of intensity, glass can be shattered instantly, creating tiny little fragments of glass that become like pieces of shrapnel being hurled across the room. In the event that one of your home windows is broken by windblown debris, a fallen tree branch, or an intruder, safety window film can help protect your family and pets from being injured by broken glass.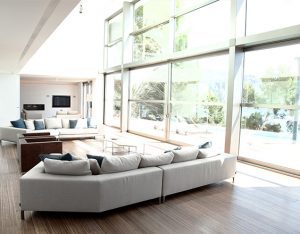 Recommended Safety Window Films
When it comes to selecting a safety window film for your Arlington home, the most important thing to consider is quality. Sure, you may be able to save a few bucks with a knock off brand of film, but you're likely to regret your decision. Cheap films wear away after a couple of years and don't perform nearly as well as high quality films made from good materials.
Here are some of the window film brands and products that we recommend:
3M Safety & Security Window Film – reliable brand with proven results
Llumar Safety & Security Window Film – wide selection of film styles
C-Bond Glass Strengthening Systems – great as a tempered glass alternative
Get a Quote on Safety Window Film in Arlington
Protect your Arlington home and family with safety window film. Call Window Film Dallas today to get a quote on professional window tinting.